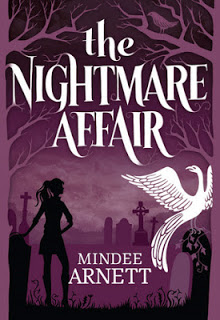 I LOVED this book.
Goodreads Blurb:
Sixteen-year-old Dusty Everhart breaks into houses late at night, but not because she's a criminal. No, she's a Nightmare.
Literally.
Being
the only Nightmare at Arkwell Academy, a boarding school for magickind,
and living in the shadow of her mother's infamy, is hard enough. But
when Dusty sneaks into Eli Booker's house, things get a whole lot more
complicated. He's hot, which means sitting on his chest and invading his
dreams couldn't get much more embarrassing. But it does. Eli is
dreaming of a murder.
Then Eli's dream comes true.
Now
Dusty has to follow the clues—both within Eli's dreams and out of
them—to stop the killer before more people turn up dead. And before the
killer learns what she's up to and marks her as the next target.
The book starts off as Dusty is attempting to dreamfeed. I instantly loved her. Dusty is the type of girl I would've hung out with in HS. She's a bit of an outcast, but she doesn't let it get to her, and she has a great attitude.
The whole book revolves around Dusty discovering the killer. There were a few times when I thought I figured it out, but I enjoyed the story so much I didn't care. Oh, and yeah, at the end, I was only partially right. There are enough twists and turns to keep you guessing.
The romance is light and just enough.
Worldbuilding? Ms. Arnett nailed it.
I was a little confused about the The Will and how it controlled everyone's magic but it's explained throughout the story and by the end, I understood. The magic system is done very well, part of that comes from how the author designed The Will to work.
This is a fun read, and even though this is a stand alone, I'm hoping to see more adventures with Dusty.
This week's muse is Float On by Modest Mouse. It captures the fun atmosphere of Dusty and her story.