Tomorrow is Valentines day. I thought about which YA book to showcase. There are so many great couples, but when I really thought about it, only one comes to mind.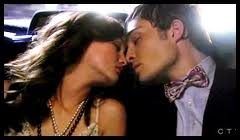 Chuck Bas and Blair Waldorf from Gossip Girl. They are the Scarlet and Rhett of our time. Deeply connected, but unable to ever be on the same page. Two people so perfectly made for one another, but too blind to see it. While Gossip Girl has many great aspects, it was Chuck and Blair that sucked me in. If you haven't watched the TV Series, it's available on Netflix.
This week's muse is dedicated to all the great loves. The ones that made it and the ones that didn't.