Hi Everyone! I hope your 2013 is going well. Mine started with the flu . . .Anyway, I had two great giveaways over the past few weeks.
Grats to Fiza who picked LEAVING PARADISE!
Grats to May who picked SPLINTERED!
I love giveaways. Getting gifts makes life a little sweeter. Too bad I have the worst luck and never win anything *insert little violin here*
Besides having the giveaways, I've been semi-distant from the blog, thanks to this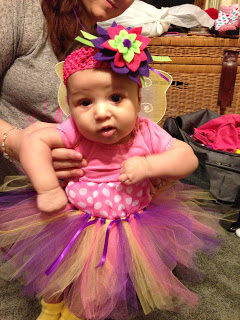 Yes, I dress up my daughter in crazy outfits. My husband insists she's not a doll, but what does he know?
I have a lot of new followers, HI!, and a bunch of book reviews I need to post. I'll also be sharing my journey to publication with you. I always love reading about how other writer's got their deal and what happened next. Lots of good stuff on the horizon, oh, and more giveaways because let's face it, we all want free stuff ; )
What's on your mind? Leave a comment and I'll come say hi!