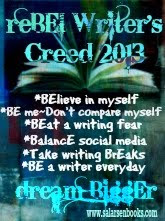 Sheri Larsen has decided to start the new year with a writer's creed. I think it's a fabulous idea and decided to join in. If you want to take part, check out her site and add your blog to the linky. This will be a great way for all of us to keep in touch and strengthen each other.
2013 is going to be a big year for me. Why? My YA Fantasy will be published with Curiosity Quills Press. There's lot of edits and marketing to be done, and I want to have book two completed, with book three started.
In order to be successful, I HAVE to do all of the above, plus a few others:
# Do not be lazy
# Don't be swayed to spend endless hours in a video game (this is feasible if DA3 doesn't come out and I don't start playing Guild Wars 2 on the new gaming PC we just got)
# Don't be afraid
I think the last one is soooo important. Fear can be paralyzing. It can stop a person from becoming something great. Personally, I'm afraid of success. I know that sounds silly, but once your work is out in the world, being read, there's a lot more at stake. What if the first book is a bestseller, but the second flops? What if I only have these one or two stories in me? I know other writers face these same fears, and they conquer them. I know I will too.
"I must not fear. Fear is the mind-killer. Fear is the little-death that
brings total obliteration. I will face my fear. I will permit it to
pass over me and through me. And when it has gone past I will turn the
inner eye to see its path. Where the fear has gone there will be
nothing. Only I will remain."

―
Frank Herbert,

Dune

Let's start 2013 right. Here's to our success!