I'm hosting a contest as part of
Enna Isilee's Birthday Bash 2012
Presented by
Squeaky Books
From August 22nd until September 22nd Enna Isilee at Squeaky Books is having a HUGE bash to celebrate her birthday! There's a giveaway nearly EVERY DAY, tons of author interviews, and guest posts from some YA book bloggers. And I get to host a giveaway!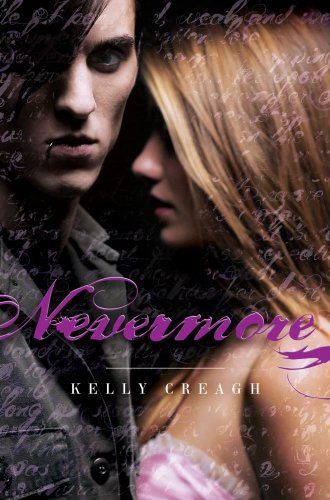 I get to give away a copy of Nevermore by Kelly Creagh!
I really, really liked this book. It reminded me of a Poe-Style Twilight without vampires or Bella. The paranormal aspect was a bit odd but the way it all tied together is very clever, and I loved all the Poe snippets inside. I'd never read Poe before, but now I will.
Here's the goodreads blurbs:
Cheerleader Isobel
Lanley is horrified when she is paired with Varen Nethers for an English
project, which is due—so unfair—on the day of the rival game. Cold and
aloof, sardonic and sharp-tongued, Varen makes it clear he'd rather not
have anything to do with her either. But when Isobel discovers strange
writing in his journal, she can't help but give this enigmatic boy with
the piercing eyes another look.
Soon, Isobel finds herself
making excuses to be with Varen. Steadily pulled away from her friends
and her possessive boyfriend, Isobel ventures deeper and deeper into the
dream world Varen has created through the pages of his notebook, a
realm where the terrifying stories of Edgar Allan Poe come to life.
As
her world begins to unravel around her, Isobel discovers that dreams,
like words, hold more power than she ever imagined, and that the most
frightening realities are those of the mind. Now she must find a way to
reach Varen before he is consumed by the shadows of his own nightmares.
Entering is simple, just fill out the rafflecopter. THIS GIVEAWAY IS OPEN TO US ONLY! You have until September 21st at 11:59pm EST to enter. All winners will be announced on Enna Isilee's birthday (September 22nd) on Enna Isilee's blog (Squeaky Books). And today, Ennalee interviewed Kelly Creagh at Squeaky Books. You should totally go check it out.
Without further ado, enter to win! Click below.
---
4 responses to "
Nevermore Giveaway Post (Squeaky Birthday 2012)

"
Ooo… I love the sound of it! Would love to read it. 🙂

I downloaded a bunch of Poe works after reading some of it in the book. This book really surprised me.

You had me at Poe. I love Poe!

LOVED this book — if you haven't read it, you should definitely enter!!!