At some point in our lives we've all had to multitask. Working full-time and being the mother of a very active three year old, I've tried to multitask. Sometimes I rock, sometimes I super suck.
This weekend, I failed.
I try to read as much as I can. This weekend I decided to take my current read, CITY OF BONES, and head outside in the backyard with my son. We have this toddler swing that he loves, so of course he wanted to go in.
Reading and pushing a swing? No problem.
I strap the little man in and push.
He turns around, sees me with a book in one hand while I push with the other.
"Push, Mommy!"
"I am."
"Put book down."
"But I can push with one hand."
"Put book down!" And he points to the deck.
I hang my head, but obey.
How could I refuse this little guy?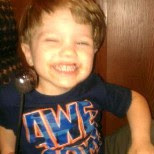 While I didn't get my way this weekend. I did enjoy a wonderful afternoon with my little man who is currently sitting on my lap as I type (he saw his picture and immediately had to know what I was doing).