Two things I kept from my HS years: a notebook passed between my 2 BFF's and my sketchbook.
I still have both and boy, is it an eye opener. I thought it would be fun for all of us YA writers to get a glimpse at some real teen style.
I'll pre-warn you, it's awful. LOL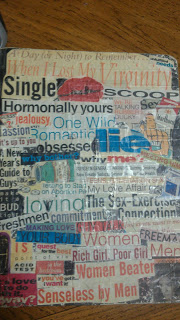 This is the front of the notebook. It's pretty much all about boys and…well, you can see.
And the back.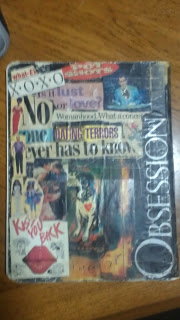 A Digital Underground single cover and a pic of David Letterman? I really had issues.
In the book we used code names: Eyore, Chrome Dome and Buttnut. Don't ask.
Here are some passages I wrote.
Dear Fellow players,
What's shaken? Not much here. The Snoop Dog mac daddy down with the 2 fly? Are you girls a part of Human Pudding? Right now I'm listening to New Kids while balancing barbies on my head.
Wow. Moving on!
Buttie,
No, I hate Eric. I'm only going out with him for his uh, his, uh I don't know. dork. So what do you want to do about Sat? Well, anyway, your brother's such a dork. He had to have his mommie call me. I have to bake Eric a cake. fun.
So, apparently I hate Eric but plan on baking him a cake. Interesting.
Buttnut + Chrome Dome,
Guess what. I talked to Mark last night. He's so mint. Oh God.
Mint? Was that the lingo back in the early nineties?
We also had a bunch of quotes in the beginning.
"Life is a waist of time and time is a waist of life so have the time of your life and get wasted"
"First you dissed this, now you want to kiss this. Tell em girls, too late you missed it"
I'm pretty sure that second one is from a Salt n Peppa song.
When writing YA we can forget what real teenagers are like. Looking back in my book, I can tell you there was one thing on my mind: boys, boys, boys.
Anyone else have anything from their HS years?