This month we celebrate male authors and male protagonists. The Unread Reader and Logan E. Turner are hosting a mega contest with three-super-uber-prize packs. All you need to do is read and write reviews on any book written by a male or containing a male protagonist and post the review link here.
When it comes to my favorite authors, R.A Salvatore is at the top of the list. He's created a world that I desperately wished existed. The Stone of Tymora trilogy is written by his son Geno Salvatore with the occasional tweak by R.A.
Here is the amazon blurb:
Though robbed by a masked spellcaster and left for dead by a demon, twelve-year-old Maimun refuses to give up the magic that rightfully belongs to him. After reuniting with dark elf Drizzt Do'Urden and Captain Deudermont's crew, Maimun sets off on a sea-faring chase that will test both the strength of his spirit and of his friendships. As perilous storms rock Sea Sprite and vicious pirates bombard its decks, a mysterious force gathers in the Moonshaes, determined to bring Deudermont's ship–and Maimun's quest–crashing to an end on its shores.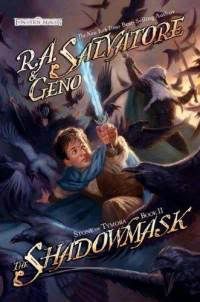 My thoughts? I liked it. It's a very fast paced read. From the very first chapter, Geno pulls you into the conflict. He nailed the YA male voice. One of my favorite aspects of Maimun is that he is pretty ordinary. He doesn't cast magic, and he's not a super-uber swordsman. I like that.
I LOVED the ravens. What are they? Hmmm, well, they talk, and they use magic, and…you'll just have to read the rest to find out.
Overall, I give this one a 4 out of 5 stars.