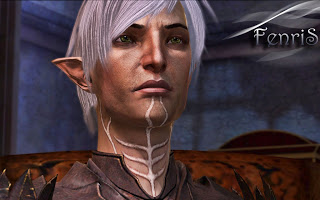 I haven't been posting, writing, tweeting or cleaning…because of Dragon Age 2. The first time I played it, I ended up having a romance with Anders which was extremely disappointing. Hence, why I had to play again and romance Fenris–the best video game romance to date.
The romances in DA2 work a little different than in Dragon Age Origins. In order to get a romance going with Fenris start flirting with him early on in the game and don't flirt with anyone else! You can do a rival or friendship romance ( I choose friendship). Besides flirting, make sure to pick up his gifts in acts 2 and 3, the Book of Shartan and the Sword of Mercy. If you want a more detailed explanation you can go to Dragon Age Wiki.
Bioware really came through for us girls on this one. The Fenris romance felt natural and passionate, plus every girl loves a bad boy ; ) I don't know what they were thinking with Anders…You flirt with him twice and then he's confessing his love and moving into your estate. While the relationship with Fenris builds up. It starts in Act 1 as a flirtatious friendship, but by the end of Act 2 he's showing up at your place. This elf comes with some serious baggage, and I think that's why it felt so real. He's hurt, angry and confused and the last thing he's expecting is to fall in love–with you.
Another thing I loved about the Fenris romance was the party banter. Merrill makes a comment about Fenris being in love and showing puppy eyes, Fenris and Anders argue over you, and Isabel has some choice words for you about Fenris.
I really, really enjoyed this game and was highly impressed with Bioware's knack for romances. Although, Thane is Mass Effect 2 was pretty dull…Anyway, five stars for Fenris!
If you follow my blog you should be used to my AMV's. This one is all about my bad boy elf–Fenris