This month we celebrate male authors and male protagonist. The Unread Reader and Logan E. Turner are hosting a mega contest with three-super-uber-prize packs. All you need to do is read and write reviews on any book written by a male or containing a male protagonist and post the review link here
This week I'll be posting a ton of different books. The first one up is YOU by Charles Benoit.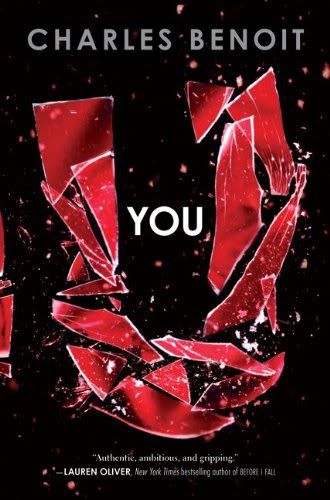 Other than a Choose Your Own Adventure, I've never read a book written in 2nd person. The story revolves around you, and you are a teenage boy.
You're kind of a loner, miserable, and your entire wardrobe consists of black hoodies. Your unsatisfied with life. There seems to be no point to anything. You could be an A student, if you did the homework, but what's the point? There is one highlight of your grey existence and that's Ashely. She's everything that's right in the world–and she's your friend, although you can't stop thinking about what it would be like to kiss her.
Things get interesting when a new kid comes to town. He's kind of a joker and a jerk, but you end up hanging out with him–against your better judgement. You wonder if you've would've stayed away from him if things would've ended the same. I'm sure people will blame him for it, but then again, you're kind of a distraught kid, so maybe they'll think it was your fault.
Either way you wonder about the what if's…but wondering what change what happened.
My thoughts? A pretty wild read. It's authentic and holds true to the YA voice. I didn't feel like I was reading in 2nd. I loved how different this book is. It gives a unique perspective on all the choices we make and they can have a rippling effect on our life.
4 out of 5 stars!