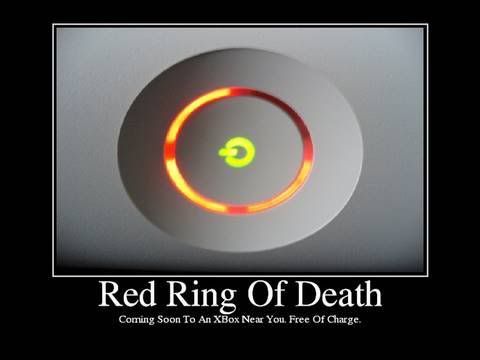 I have to rant. I'm in a foul mood, and staring at KOTOR:Sith Lords, and I'm getting madder by the second.
Long ago in a time when systems actually worked, I was a huge supporter of the 360. I loved the online aspect (even though you had to pay), was impressed by the huge game titles available and found the interface extremely user friendly. Then like everyone else, I got the red rings of death. Microsoft did the right thing, and after a month I got my 360 back, problem solved. That was over two years ago.
After finishing Mass Effect 2 (which by the way is an amazing series), I decided to finish KOTOR:Sith lords, an Xbox classic. I can't say I was surprised to see the red rings again, but come one, am I really going to have to get my 360 fixed every two years??
I went on youtube and tried all the dumb tricks, except the towel thing, I'm not trying to fry my 360. Of course nothing worked, and with the warranty up I have only three options: pay to get it fixed, buy a new one or chuck the whole thing in the garbage and walk away from Xbox forever.
I'll give you two reasons why I'm opting to not chuck it, Mass Effect 3 and Fable 3.
Now that I've decided to continue on with Microsoft. I have to make another decision, buy a new one or get it fixed. Play & Trade can fix your disaster, and you can get it back in a week, but at the cost of $80.00. Why not pay the extra money and buy a new one? Either way, I'm not happy. In all my gaming years I have never had any problems with my Sony systems. They're stable and reliable. For a huge company like Microsoft, they are really dropping the ball.
I have no idea if the new Xbox360's still encounter the dreaded rings. If anyone has a new one and has no problems, please speak up! I'm very close to boycotting Xbox…
Rant finished.